Product Engineering & Design
Bingham & Taylor specializes in the design and development of custom high quality products for the water and gas industries.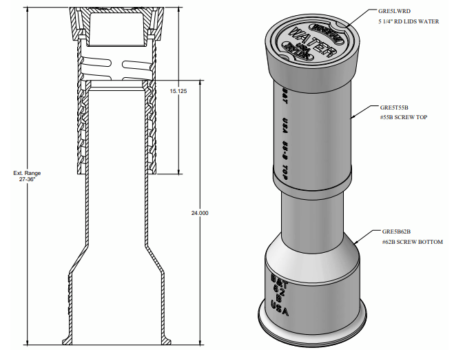 Materials

We manufacture products in cast iron, ABS plastic, and injection molded plastic. Our cast iron is continuously checked for sand compaction, sand moisture, carbon content, silicon content, and iron temperature. Our ABS plastics are closely monitored for temperature during the blow molding process. Our injection molding resin is a high-strength polypropylene that is specifically formulated for B&T and includes additives for criteria such as UV protection, impact resistance, and chemical resistance.

Product Improvement

Our Engineering Team is continuously developing material and product improvements. We scrutinize the raw materials, including source iron, resins, and adhesives continuously seeking improvements to our products for our customers. We recently switched to all white ABS plastic products, which increases the visibility inside the box for utility workers. For the Valve Sentinels, we recently expanded the product line to include valve box diameters of 4"-12".

Professionals

The Bingham & Taylor team is staffed with professionals who are well-respected in the water and gas industries, ensuring that customers always receive qualified technical advice and recommendations, and the products are of the highest quality standard.